Allows you to read or write a delimited file (often called Comma Separated File, CSV)
Source Parameters​
CSV Source supports all the available spark read options for CSV.
The below list contains the additional parameters to read a CSV file:
Parameter
Description
Required
Dataset Name
Name of the Dataset (read more about Datasets)
True
Location
Location of the file(s) to be loaded
Eg: dbfs:/data/test.csv
True
Schema
Schema to applied on the loaded data. Can be defined/edited as json or inferred using Infer Schema button
True
Target Parameters​
CSV Target supports all the available spark write options for CSV.
The below list contains the additional parameters to write a CSV file:
Parameter
Description
Required
Dataset Name
Name of the Dataset (read more about Datasets)
True
Location
Location of the file(s) to be loaded
Eg: dbfs:/data/output.csv
True
Loading a CSV file​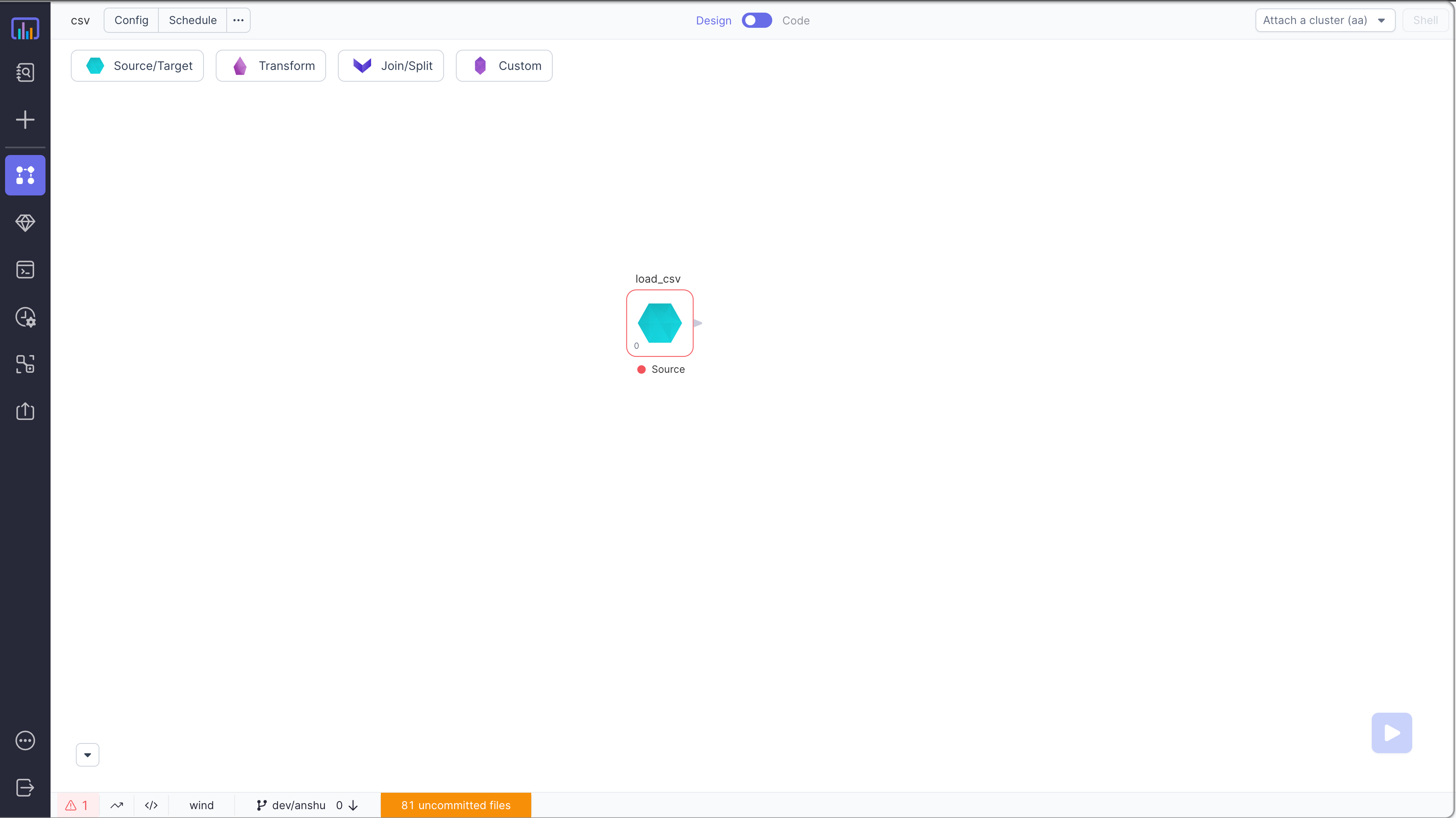 Step 1 - Create Source Component
def

 

load_csv

(

spark

:

 SparkSession

)

 

-

>

 DataFrame

:




    

return

 spark

.

read\




        

.

schema

(




          StructType

(

[




            StructField

(

"order_id"

,

 IntegerType

(

)

,

 

True

)

,




            StructField

(

"customer_id"

,

 IntegerType

(

)

,

 

True

)

,




            StructField

(

"order_status"

,

 StringType

(

)

,

 

True

)

,




            StructField

(

"order_category"

,

 StringType

(

)

,

 

True

)

,




            StructField

(

"order_date"

,

 DateType

(

)

,

 

True

)

,




            StructField

(

"amount"

,

 DoubleType

(

)

,

 

True

)




        

]

)




        

)

\




        

.

option

(

"header"

,

 

True

)

\




        

.

option

(

"quote"

,

 

"\""

)

\




        

.

option

(

"sep"

,

 

","

)

\




        

.

csv

(

"dbfs:/Prophecy/anshuman@simpledatalabs.com/OrdersDatasetInput.csv"

)




object

 load_csv 

{





  

def

 apply

(

spark

:

 SparkSession

)

:

 DataFrame 

=




    spark

.

read




      

.

format

(

"csv"

)




      

.

option

(

"header"

,

 

true

)




      

.

option

(

"quote"

,

  

"\""

)




      

.

option

(

"sep"

,

    

","

)




      

.

schema

(




        StructType

(




          Array

(




            StructField

(

"order_id"

,

       IntegerType

,

 

true

)

,




            StructField

(

"customer_id"

,

    IntegerType

,

 

true

)

,




            StructField

(

"order_status"

,

   StringType

,

  

true

)

,




            StructField

(

"order_category"

,

 StringType

,

  

true

)

,




            StructField

(

"order_date"

,

     DateType

,

    

true

)

,




            StructField

(

"amount"

,

         DoubleType

,

  

true

)




          

)




        

)




      

)




      

.

load

(

"dbfs:/Prophecy/anshuman@simpledatalabs.com/OrdersDatasetInput.csv"

)





}



---
Writing a CSV file​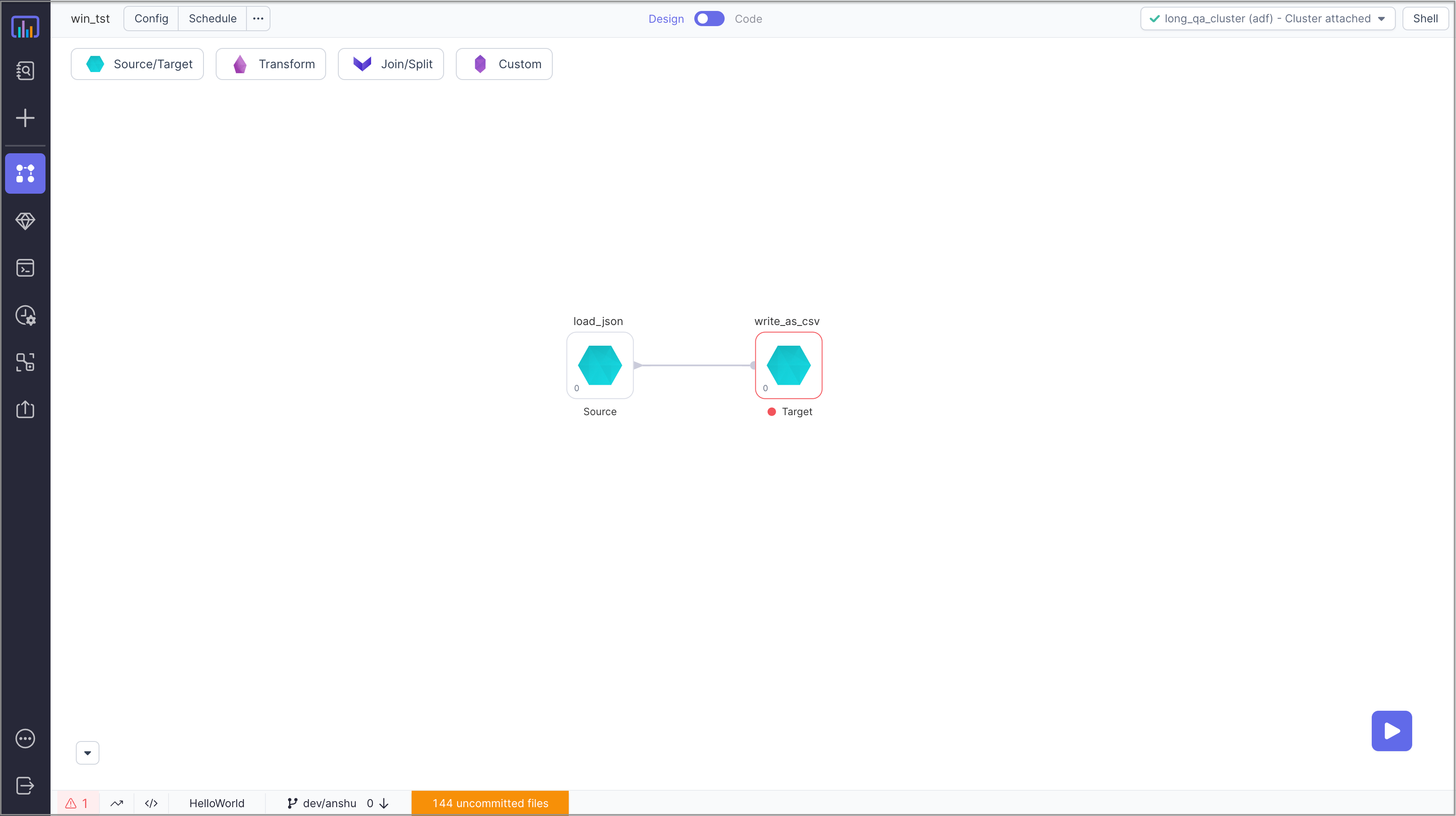 Step 1 - Create Target Component
def

 

write_as_csv

(

spark

:

 SparkSession

,

 in0

:

 DataFrame

)

:




    in0

.

write\




        

.

option

(

"header"

,

 

True

)

\




        

.

option

(

"sep"

,

 

","

)

\




        

.

mode

(

"error"

)

\




        

.

option

(

"separator"

,

 

","

)

\




        

.

option

(

"header"

,

 

True

)

\




        

.

csv

(

"dbfs:/Prophecy/anshuman@simpledatalabs.com/output.csv"

)



object

 write_as_csv 

{




  

def

 apply

(

spark

:

 SparkSession

,

 in

:

 DataFrame

)

:

 

Unit

 

=




    in

.

write




      

.

format

(

"csv"

)




      

.

option

(

"header"

,

 

true

)




      

.

option

(

"sep"

,

    

","

)




      

.

mode

(

"error"

)




      

.

save

(

"dbfs:/Prophecy/anshuman@simpledatalabs.com/output.csv"

)




}